WHY S&P?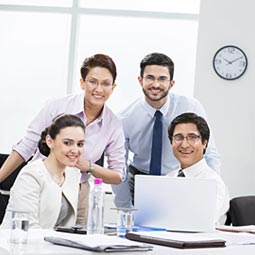 S&P is a young and dynamic company that has grown leaps and bounds in the past decade. As a company that owns 350 acres of prime residential lands in and around Chennai valued at Rs. 2500 crores, S&P is uniquely positioned for rapid growth in the near future. We are constantly in search of talented individuals who are motivated to grow with us. S&P believes in nurturing young talent and providing the right environment for talent to progress. We believe in providing our employees with continuous learning opportunities so they are well-equipped for rapid career growth.
To this end, we are looking for candidates with creativity and ingenuity. Our work environment is warm and friendly where new employees will be mentored and respected. We encourage ideas to spurt from all areas of the organization and encourage leadership roles, provided you are up for it. At S&P, we know our people make the company what it is and what it can become.
If you are interested in joining our team, take a look at the available job openings, or email us at [email protected].
CURRENT JOB OPENINGS
AGM – SALES
Graduate having about 10 to 15 yrs. of Sales Experience. Working currently in a Sales position which involves direct selling (one on one) to High Net-Worth Individuals, Senior Management professionals, Decision Makers in large/medium organizations, Businessmen etc. E.g. Sales Persons selling High-End software in the IT Sector, Sales People selling Home loans, High-end insurance/ investment products, Office automation products etc. Should be Smart, Suave, Well-read, Well-groomed. Should be contemporary in approach and have a progressive, modern outlook to life. Should be aggressive in his/her professional approach, but down to earth, humble at a personal level. Should be Self-driven, positive-minded, highly energetic, persistent and be able to think and take decisions independently, as well as lead and inspire a team. Should have a good command on the English language; knowing Tamil, Hindi will be an added advantage. If the candidate is currently in Sales in the Real Estate industry, it will be an added advantage.
EXECUTIVE – SALES
MBA Candidates with 2 to 4 years of experience in selling residential projects with excellent communication and follow up skills. He / She must be a committed team player, self-starter, persuasive and result oriented.
TELE-CALLER (FEMALE)
Any Graduate with 0 – 2 years of experience in handling inbound/outbound calls in BFSI, BPO/KPO, Real Estate with excellent communication, good co-ordination and control, self-motivated and highly organized with ability to multi-task and work independently and as part of a team.
Responsibilities include but are not limited to:
Increasing site visits efficiently by making outbound calls & attending inbound calls.
Generate leads through active and passive database churning and outbound calling.
Work with a database of clients that are a mixture of existing, dormant and new contacts and get involved in all aspects of the acquisition process for Lead generation.
Maintain accurate and detailed records of calls made and results achieved.
Work closely with Sales & Marketing team for Client appointments and achieve conversion/empanelment targets.
Use company script guidelines appropriately and follow detailed briefs to conduct/make calls.
Ensure follow ups are done telephonically and on emails for all appointments.
Coordinate and liaise with internal and external stakeholders as and when required.
Periodic reporting to Management.
Report any abnormalities to the Management as soon as noticed.